Malaysia has a wide range of tourist attractions. The sheer diversity of tourism destinations is astounding. These include the high-tech city of Kuala Lumpur, tropical island of Langkawi, colonial hill stations of Genting and Cameron Highlands, numerous pristine beaches, National Parks, and the world's oldest tropical rainforests. Malaysia has the potential of catering to tourist of every hue and it truly lives up to its tag line of Malaysia Truly Asia
Kuala Lumpur, is blessed with colors of modernism along with rich heritage, situated at the confluence of Sungai Gombak and Sungai Klang.

Kelantan, literally meaning "Land of Lightning"-is an agrarian state with lush paddy fields, rustic fishing villages and casuarina-lined beaches. Located in the northeast corner of the peninsula, the charms of Kelantan are found in the vitality of its culture and its remote, unsullied beauty. Kelantan offers plenty of activities such as river cruises, river rafting, bird watching and jungle trekking.

Malacca, is a quiet seaside city located on the West Coast of Peninsular Malaysia facing the Straits of Malacca. Situated about 147 km from Kuala Lumpur its colonial past is evident in its Portuguese architecture. There is a strong Chinese influence, most of the businessmen here being Chinese. Over the centuries, the Chinese and local Malay cultures in Malacca intertwined, eventually producing a completely unique society.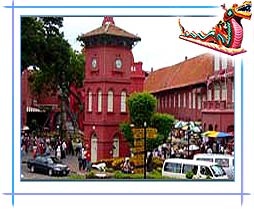 Negeri Sembilian, literally means "Nine States". It is so called because it comprises a federation of nine states. Located on the southwest corner of Peninsular Malaysia, Negeri Sembilan encompasses an area of 6,645 sq km and a 48 km long coastline.

Penang, literally meaning Island of Betel Nut, is famous for its natural scenic beauty. Also known as the 'Pearl of Orient', Penang entices visitors with its warm seas, golden beaches, lush greenery and delicious cuisine.

Perlis, is the smallest state in Malaysia and is famous for its serene unspoilt beauty, rustic rural scenes and verdant paddy fields which make the landscape appear like a huge canvas of brilliant green or gold, depending on the season.

Terengganu is one of the three east coast states on Peninsular Malaysia and is the repository of Malaysia's cultural heritage, home to the lilting Gamelan and the mesmerizing "Ulek Mayang" dance. It is a serene state, with numerous small villages, quiet roads, and secluded islands and beaches.